Description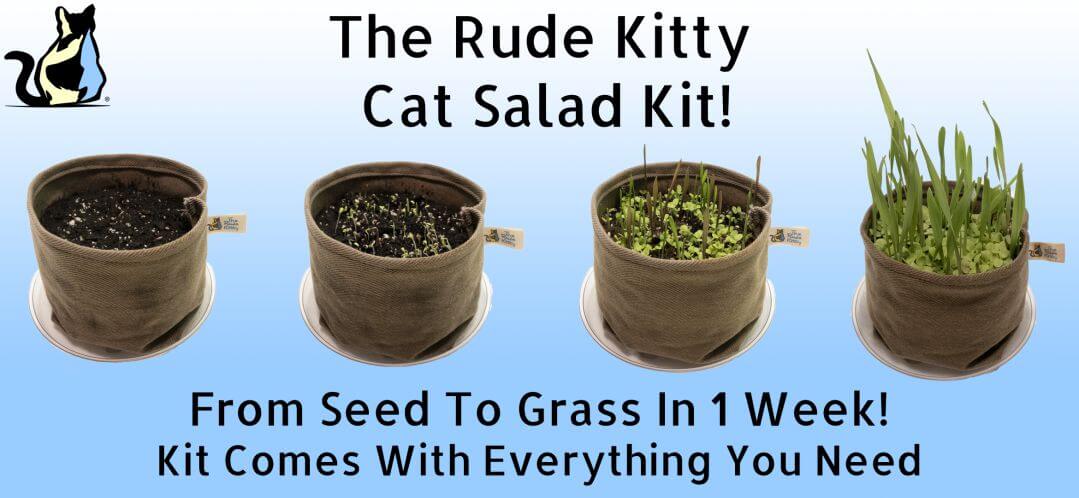 TRK© Cat Salad Kit (Cat Grass)
Cat Salad is an organic, sustainable, non GMO mixture of cereal grasses and broad leaf greens that are human grade. We call it cat grass so people can find it online 🙂
Yes, you could also nibble these delectable little leaves! It is not just for cats; hamsters, birds, reptiles and dogs love it too. Our unique, cloth container holds dirt in. While not harming your pet if tipped over, It will not break and leave sharp pieces to cut their feet.
Our tasty, nutritious salad greens are a healthy source of:
Vitamin A and K
Folic acid
Minerals
Antioxidants
A good source of fiber.
Perfect for your stay inside furry fiend!
The grasses are nutritious and aid in digestion. They help with hairball control by pushing through the digestive tract or coming back up. If they occasionally throw up after eating the cat salad, think of it as your mighty kitty going back to their ancestors who once roamed outside and using it as a healthful and effective digestive cure.
Every part of our kit is Made in America!
Container:
We make our unique, unbreakable, biodegradable fabric containers air prune the roots which promotes more of the plants' energy to the greens for your pet. The roots bond with the fabric and even if it is tipped over, very little dirt comes out of the pot.
List of parts:
Organic, Non GMO Seeds from American seed companies
Organic Dirt
Pot (Made right here at Rude Kitty HQ) from 100% cotton fabric Made in America. (Reusable)
Saucer PET Recyclable Plastic (reusable)
Even our packaging is carefully selected to be sustainable, biodegradable
and Made in USA